The facility consists of two departments: Start-feeding and Grow-out. Each department has its own separate water treatment system, running on clean freshwater.

In addition to this, the facility has vacuum-run equipment for dead fish transport and a sludge treatment system to dewater the waste sludge. All the equipment is under observation via cameras placed in each department hall.
Major components:

The Kaldnes® RAS water treatment system consists of four major process components:
Mechanical Particle Separation
The Hydrotech™ drumfilters remove particles and suspended matter from the water, both from fish feed and fish feces
Biological Filtration
Dissolved and particulate organic matter and ammonia are degraded by bacteria and microorganisms in a two-stage Kaldnes® MBBR biofilter.
Degassing
Carbon dioxide produced by fish respiration is removed in a centralized CO2  degasser. 
Automation
The entire facility, including the water treatment systems, lighting, oxygen and heat, is monitored and controlled by Veolia's operating control system. 
Footprint
The two Kaldnes® RAS systems together have a capacity of 1.556 kg daily feeding, with a total hydraulic capacity of 2.875 m3 /h. They occupy a footprint of 176 m2  (including the switchboard) which is a mere 12% of the total hall area.
Key Data
| Parameter | Start-feeding | Grow-out |
| --- | --- | --- |
| Total fish tank volume | 339 m3 | 1.272 m3 |
| Maximum biomass | 11.875 kg | 63.617 kg |
| Maximum feeding  | 356 kg/døgn | 1.200 kg/døgn |
| Recirculating water flowrate | 675 m3/time | 2.200 m3/time |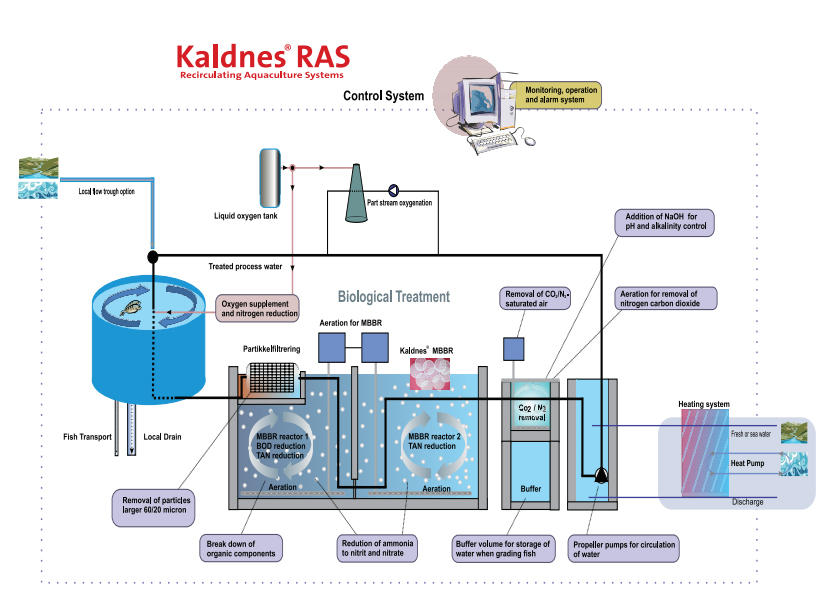 Client: Osland Settefisk AS
Startup: 2016
Challenge:
To build a turnkey RAS facility with a highly constrained footprint.

Solution:
Kaldnes® RAS consisting of Hydrotech™ Drumfilters, Kaldnes® MBBR, central CO2  degasser and circulation pumps. The facility is monitored and controlled by VA-operator, a fully automated control program
Design capacity:
Production:
2,5 million smolt per year
Maximum feeding:
356 + 1.200 kg per day
Fish tank volume :
339 + 1.272 m3
Operating conditions:
CO2 ut av kar: ≤15 mg/l
TAN: ≤ 2 mg/l
NO2-N: ≤ 0,5 mg/l
NO3-N: ≤ 70 mg/l
Nitrogen saturation: ≤ 100 %